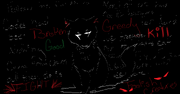 Leader:ToxicDarkRose [poison star]

Dep: Frost fang [tom cat]
Med: need one ._. 
Head warrior:Zarra [Frost fang]
Terr: Right side of lake shore to the water fall step on it and we find out we will kill you ._.
Allies:Blood claw [Family] Blood clan Rouges of ash and many more o.o.

Ok i have so many clans that dont like us i dont evan no o_o or i could care less :D #haters My clan is low temperd we get in fights alot. ._. Not proud of it but it happens. We have this we have this bad evil rep like thing but we arnt really that bad.Once you get to no us we are loving and we are like a big family o.o true. Most cats have problems with us not following the warrior code but not are problem. ._. Also my terr has always ben there and always will ._......  and i will list 3 clans we cant stand poison oak sky fall and meadow one last thing we are an elder clan coming back and if you would like to join add me at ToxicDarkrose or zarra thanks o..o
Ad blocker interference detected!
Wikia is a free-to-use site that makes money from advertising. We have a modified experience for viewers using ad blockers

Wikia is not accessible if you've made further modifications. Remove the custom ad blocker rule(s) and the page will load as expected.